Latest News
Jim Diers Workshop – Oct 24th
October 2, 2018
You are invited to attend the South Island Education Committee and the South Island Community Council's upcoming workshop Practical Tools and Training to Effect Social Change through Community Development with Jim Diers, on Wednesday October 24th.  Join us for a day of big picture thinking about inclusion and community development with discussions about "What do we really mean by community living" and "How does working in a fundamentally different way strengthen community connection for everyone?"
$35 per person to attend.  Morning coffee/tea and snack and afternoon coffee/tea included.  90 minute break for lunch on your own.
Find more information about Jim Diers on his website.
Register: https://goo.gl/fbRKbj
October Calendar
September 28, 2018
Check out the activities and events happening this October!
September Calendar
August 28, 2018
Where did the Summer go? September is almost here! Check out all the free and low cost activities around town this September!
Don't forget to save the date for OneDay! Saturday September 8th! Hope to see you there!
August Calendar
July 31, 2018
Summer is here! August is full of free or low cost outdoor activities! Check out our calendar below!
2018 CARF Survey Report
July 11, 2018
The report is in! BeConnected has officially received a 3 year accreditation from CARF with ZERO recommendations! Read more about it in Accreditation Bulletin #33!
View our CARF Accreditation letter here!
View our full 2018 CARF Survey Report here!
One Day Marketplace – Vendors Wanted!
July 6, 2018
One Day is looking for vendors for the One Day Marketplace. If you make it, bake it, or grow it, come sell it at our Marketplace! One Day takes place on Saturday September 8th at Topaz Park from 10am-3pm. In addition to the marketplace, One Day will have live performances, inclusive games and activities, a low-cost BBQ, and much more!
Find a copy of the Marketplace application form here! Have questions about the One Day Marketplace? Please contact Karla at klandsiedel@beconsupport.ca.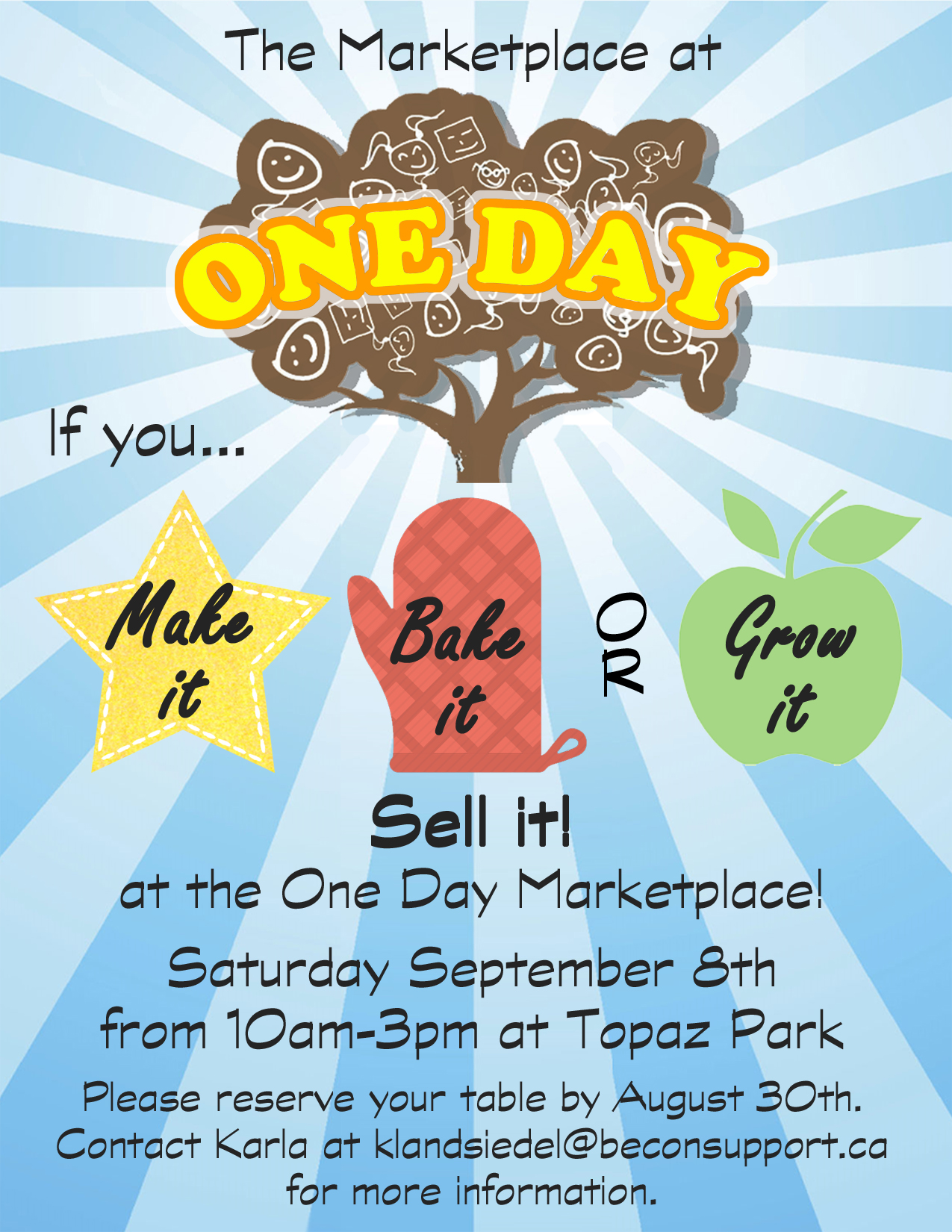 July Calendar
June 28, 2018
July is jam-packed with Movies, Music, Yoga and other free/low cost activities! Check out the calendar below to see what's happening in the community!
CARF Preliminary Results
June 7, 2018
BeConnected's 6th CARF Survey concluded yesterday, June 6th 2018! The preliminary results are in and BeConnected passed with flying colours! Check out the bulletin below for more information on how did! The official survey report will be received in approximately 6-8 weeks and will be available at every BeConnected site. Thank you everyone for all of your hard work and support!
CARF Exit Conference
June 6, 2018
CARF Accreditation 2018 is almost finished!
Our Exit Conference will be held at UVic in the Campus View Room of the Cadboro Commons Building at approximately 2pm.
For more information check out BeConnected's Accreditation Bulletin #31 posted below!
Family and Friends Picnic in Celebration of Indigenous Peoples Day
June 1, 2018
Join us on Saturday, June 16th to celebrate Indigenous Peoples Day with our annual Family and Friends Picnic!
Update: The Esquimalt Singers and Dancers will be performing at 11:30am!
< Newer Entries
Older Entries >