Latest News
December Calendar
November 30, 2018
December is here already! Lots of free or low cost community events in town to celebrate the holidays!
SOCKs 2018
November 28, 2018
Several years ago BeConnected formed a committee to assist those in need in the holiday season: SOCKs – The Spirit of Community and Kindness Committee. This year we are once again collecting wool socks and other comfort items  (gift cards, snacks, lighters, hand warmers, lip balm, etc) to donate to the Victoria Cool Aid Society's Rock Bay Landing Homeless Shelter. This year our goal is to collect 50 SOCKs!
SOCKs donations will be collected at each BSS group home and office location until Friday, December 7th.
Thank you to all who are able to participate!
International Day of Persons with Disabilities – December 3rd
November 28, 2018
Celebrate International Day of Persons with Disabilities this year with two great events held on the UVic Campus! Start off at Inspiration 2018 to learn about the history and future of Community Living an participate in a small group visioning activity. Tickets only $5 and available online! Then head over to Cinecenta to watch this year's Sprout Film Festival. The Film Festival showcases seven short films by or about people with disabilities followed by a Self Advocates Panel to discuss the themes in each video. Admission is by donation and an Inspiration 2018 ticket will get you a free pop and popcorn!
Fall Newsletter
November 15, 2018
Hot off the press! Keep up to date with what's happening at BeConnected with our quarterly newsletter! https://conta.cc/2DFJn9c
Friends and Family Holiday Lunch!
November 14, 2018
Join us for our Annual Friends and Family Holiday Lunch! Enjoy visiting with friends and family, a fantastic holiday lunch, festive music, and a visit with Santa! RSVP to Chelsea by Nov 30! Phone 250-727-3891 ext 209 or email. Please include ages of children under 10 attending in order to receive a gift from Santa!
See map below for additional parking information.
Dec 3rd Film Festival
November 7, 2018
We are very excited to be co-hosting this event again this year! On December 3rd, United Nations International Day of Persons with Disabilities, please join us at the University of Victoria's Cinecenta from 4:00pm to 6:00pm for the Sprout Film Festival. It's going to be great!
Sprout is a unique non-profit organization that distributes films made by and/or starring people with intellectual disabilities.
Films for the 2018 festival were selected by the BC Self Advocacy Foundation, a group of leaders with intellectual disabilities who live in communities across BC.
The 2018 festival is taking place in 5 communities in BC, including Victoria. Join us, BeConnected Support Services, along with Self Advocates for a Brighter Future – SABF, Lifetime Networks, and Community Living Victoria, in celebration of International Day of Persons with Disabilities as well as the artists and film makers whose short films we will be showcasing on December 3rd.
Mark your calendars and stay tuned for more details!
Calling All Artists
November 2, 2018
The 8th Annual BeCommunity Art Show will be taking place in January at the Spiral Cafe. Please submit your original pieces to BeConnected's Head Office by December 28th. Make sure to include your name as well as the name of your piece! 100% of the purchase price goes right back to the artist.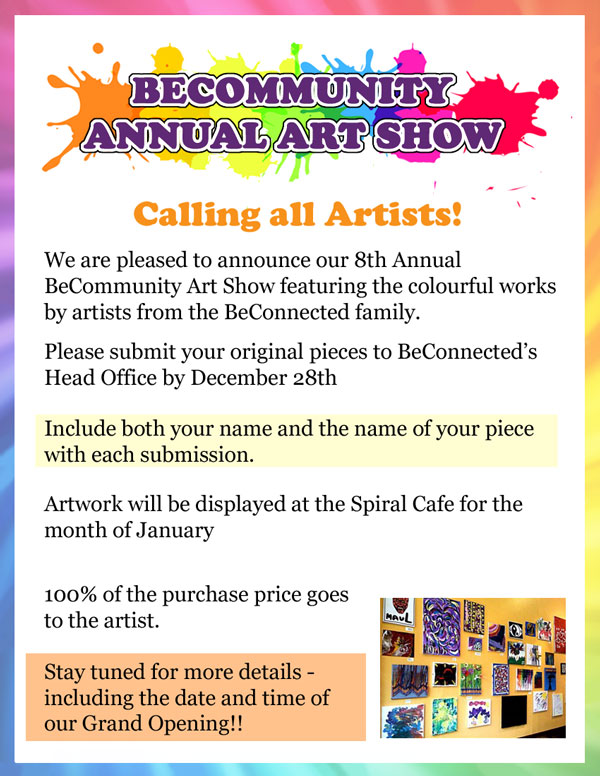 November Calendar
November 2, 2018
Check out this months calendar for free and low cost events in the community!