Latest News
June Calendar
May 31, 2021
Summer is almost here! Lots going on this month including our annual art show, Challenger Baseball, SABF Wellness Challenges, and CARF accreditation! Check out the calendar for the full list of activities and community events.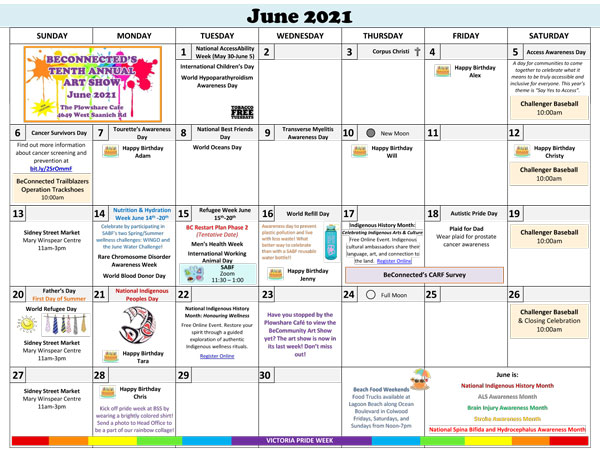 Every Child Matters
May 31, 2021
With heavy hearts we re-post September's image we created for #OrangeShirtDay, with respect for the Tk'emlúps te Secwépemc Nation who are experiencing incomprehensible loss after the discovery of a mass grave at the former Kamloops Indian Residential School. We want to honour the Tk'emlúps te Secwepemc Nation and send expressions from the heart and offers of love and support, from BeConnected Support Services in Vancouver Island. 🧡🧡 #everychildmatters
2021 BeCommunity Art Show
May 31, 2021
Our Art Show has moved! Thank you to the Plowshare Cafe for hosting our TENTH annual art show! Art will be on display for the month of June. Stop by the Plowshare Cafe at 4649 West Saanich Rd for coffee or lunch and take in some art! 100% of the purchase price goes back to the artist.
Calling All Artists!
May 13, 2021
Calling all artists! BeConnecteds TENTH Annual BeCommunity Art Show will be held in June at the Spiral Cafe! Artists are requested to drop off their pieces to Head Office by May 28th with name of the artist, the name of the piece, and the purchase price. 100% of the purchase price goes back to the artist.
Upcoming CARF Survey Dates
May 13, 2021
BeConnected's seventh CARF survey will be taking place on June 17th and 18th. Please visit our Quality Assurance page for more information about the accreditation process.
Fit in Fitness Month!
May 4, 2021
May is fit in fitness month at BeConnected!
Each May BeConnected promotes fitness as part of a healthy lifestyle for our employees by purchasing the Regional May Recreation Pass offered by local community centres. Due to COVID-19 and limited programs being offered at rec centres at this time, for the second year in a row, we are looking at another way to promote fitness and activity at BeConnected!
This month, "Fit in Fitness" by using a fitness app!
Details: BeConnected will reimburse employees the cost (up to $20) of their favourite paid fitness app, during the month of May. Select an app that suits your interests and fitness goals, order it up, and provide proof of purchase to your Coordinator by May 31st in order to receive reimbursement.
May Calendar
May 3, 2021
Check out what's happening this month at BeConnected!