Latest News
August Calendar
August 2, 2022
This month there are many outdoor events to attend. Grab your sunblock, water bottles, and hats so you can get out there and enjoy the festivities.
The BeConnected Summer BBQ is on August 5th from 11:00am-1:00pm and features music with the Encores, hotdogs, pop, and corn-hole!
Please join in on August 26th for Art Therapy with Vahini Govender at Beacon Hill Park. Art Therapy will be from 10:30-11:30am so feel free to pack a lunch and enjoy a picnic in the park afterwards!
July Calendar
July 8, 2022
What a great month to spend outside enjoying the weather! Be sure to check out some of the FREE concerts and movie screenings happening around Victoria this month.
Spring Newsletter
June 7, 2022
Hot off the press! Check out our Spring Newsletter!
June Calendar
June 2, 2022
There's a lot going on this June – check out this months calendar!
Upcoming Webinar: Doing Our Best Work
May 16, 2022
The South Island Education Committee is excited to announce that we are bringing back Peter Leidy for a half day workshop that promises to be fun and an excellent learning opportunity!  You are invited to attend SIEC's Doing Our Best Work: 10 Ingredients of Quality Support workshop, with Peter Leidy by video, on Thursday June 2nd, 2022, from 9:30am—12:30pm.  Please join us for a half day conversation to examine what ingredients make for excellent direct support in community living services. Register here by May 27th.
April Calendar
April 1, 2022
Don't miss out on our Easter Party at Tamarack! Come on by for an Easter egg hunt, a big meal, and meet the EASTER BUNNY!
BeConnected's Mental Health and Wellness Bulletin No. 3
March 23, 2022
BeConnected's third edition of our Mental Health and Wellness Bulletin is hot off the press!
2022 Winter Newsletter
March 17, 2022
Check out what's been happening this past winter in our 2022 Winter Newsletter!
Upcoming Webinar – Healthy Workplaces: The Importance of Mental Health at Work
March 15, 2022
The South Island Education Committee is offering a FREE webinar to personnel focusing on Mental Health at Work. See poster for more details and register online by March 23rd.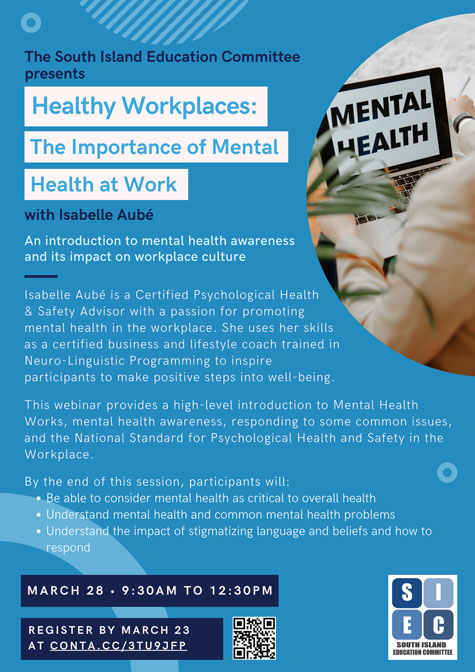 Pink Shirt Day 2022
February 23, 2022
BeConnected is proud to participate in #PinkShirtDay
Older Entries >