Latest News
Helpful Links for Upcoming Federal Election
September 13, 2021
Monday, September 20, 2021
Some great stuff to help you have conversations with individuals about voting…
It's your right to vote.
It's your responsibility to vote.
It's your right to choose who you feel will best represent you in Canada's next government.
It's your responsibility to learn about voting, about the candidates in your riding, and about the issues that are important to you and people like you.
The information below can help with answering questions you might have about the voting process. You will find Inclusion Canada's summary of issues that are important to Canadians with disabilities.  InclusionBC's #IAmVoting info package and participation guide – plain language.  List of candidates for all Vancouver Island ridings.  And a Federal Election section where you can learn about the parties in a little bit more detail.
Inclusion Canada's summary of issues that are important to Canadians with disabilities:
https://inclusioncanada.ca/wp-content/uploads/2021/08/Fed-Election-Info-Eng-Updated-1.pdf
InclusionBC's #IAmVoting info package and participation guide [with lots of pics and colour]:
https://inclusionbc.org/wp-content/uploads/2021/09/2021_FederalElection_IAmVotingGuide.pdf
And candidates list for Vancouver Island ridings:
https://vancouverisland.ctvnews.ca/vancouver-island-candidates-in-the-2021-federal-election-1.5550444
Submit your photos of yourself exercising your right to vote to be featured in BeConnected's voting mini-art project.
August Calendar
July 28, 2021
Check out what's happening this month at BeConnected!
July Calendar
July 5, 2021
What a fun month we have coming up! July is going to be an exciting mix of continued online events as well as in-person events for those who are itching to get outside and feel comfortable doing so. Please take a look and let's take advantage of these fabulous events!
CARF Survey Exit Conference
June 18, 2021
We are on our last day of our SEVENTH CARF survey! BeConnected will be hosting our Exit Conference via Microsoft Teams where the survey team will provide feedback on our strengths and make recommendations for improvements. If you would like to join the Exit Conference, please contact Head Office for the link – everyone is invited!
Accreditation Update
June 8, 2021
Preparation for BeConnected's SEVENTH accreditation survey is well underway with our site survey scheduled to occur on June 17th and 18th, 2021.  While the CARF surveyors are conducting the survey remotely using Microsoft Teams, they will meet with individuals, employees and contractors of BSS locations – head office, Duncan office, adult group homes, children's group homes, Network of Home Living (home share), and semi-independent living programs.  A schedule of where and when they will be "visiting" each program location will be made available on Wednesday June 16th.  If individuals supported, family members, employees or contractors would like to meet with the survey team, please contact me and I will make sure the survey team is made aware of the request.
The purpose of the visits to program locations is for the survey team to determine the organization's conformance to all applicable standards through the observation of services, interviews with persons supported and other stakeholders, and review of documentation.
Welcome Orientation
BSS will be hosting a reception to welcome the CARF survey team, and give anyone who wishes, the opportunity to meet the surveyors and ask questions.  The Welcome Orientation is scheduled for 9:00am on Thursday June 17th on Microsoft Teams – please contact Kristen or Chelsea and they will send you the link to join once we receive it.  Please consider joining us in welcoming Yolanda, Peggy and William all the way from the United States, to BeConnected Support Services.
Exit Conference
Tentatively scheduled for 2:00pm on Friday, June 18th, BeConnected will be hosting our survey "Exit Conference," also via Microsoft Teams.  We will be informed or the survey team's findings related to the standards.  The Exit Conference will last approximately one hour.  The purpose of the conference is for the survey team to provide feedback regarding the strengths of the organization's programs and operations in relation to the standards, make recommendations for improvement, and offer suggestions and consultation.   It's also our last opportunity to question any recommendations made by the survey team and present further evidence of conformance to the standards. The link to the exit conference will be available Friday morning – please contact the office. Everyone is invited to attend!
Spring Newsletter 2021
June 8, 2021
Hot off the press! Check out the latest news in our Spring Newsletter!
June Calendar
May 31, 2021
Summer is almost here! Lots going on this month including our annual art show, Challenger Baseball, SABF Wellness Challenges, and CARF accreditation! Check out the calendar for the full list of activities and community events.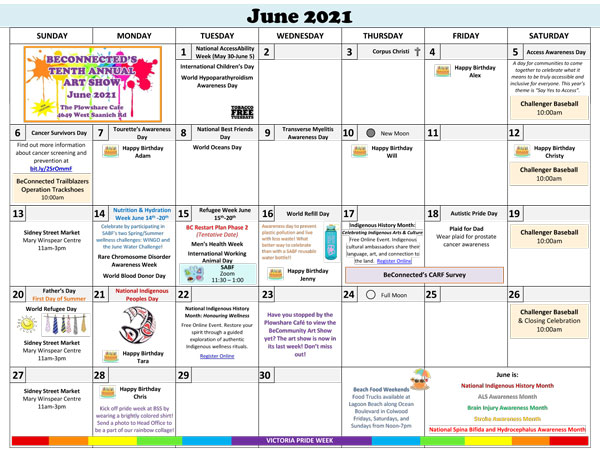 Every Child Matters
May 31, 2021
With heavy hearts we re-post September's image we created for #OrangeShirtDay, with respect for the Tk'emlúps te Secwépemc Nation who are experiencing incomprehensible loss after the discovery of a mass grave at the former Kamloops Indian Residential School. We want to honour the Tk'emlúps te Secwepemc Nation and send expressions from the heart and offers of love and support, from BeConnected Support Services in Vancouver Island. 🧡🧡 #everychildmatters
2021 BeCommunity Art Show
May 31, 2021
Our Art Show has moved! Thank you to the Plowshare Cafe for hosting our TENTH annual art show! Art will be on display for the month of June. Stop by the Plowshare Cafe at 4649 West Saanich Rd for coffee or lunch and take in some art! 100% of the purchase price goes back to the artist.
Calling All Artists!
May 13, 2021
Calling all artists! BeConnecteds TENTH Annual BeCommunity Art Show will be held in June at the Spiral Cafe! Artists are requested to drop off their pieces to Head Office by May 28th with name of the artist, the name of the piece, and the purchase price. 100% of the purchase price goes back to the artist.
Older Entries >