Latest News
April Calendar
March 27, 2019
Spring has arrived! Check out what's happening at BeConnected and in the community this April!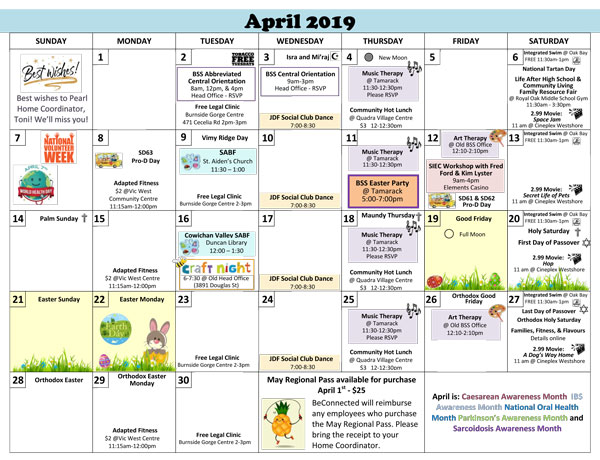 Workshop – Community Living 101: Back to Basics & Possibilities for the Future
March 14, 2019
The South Island Education Committee presents Community Living 101: Back to Basics & Possibilities for the Future with Fred Ford and Kim Lyster. Join us for a day of conversation about the history, values, and beliefs that guide our movement and are vital to sustaining ourselves – and the vision of community living for all citizens.
When: Friday, April 12th 2019
Where: Elements Casino (1708 Island Highway) Victoria, BC
Cost: $60 – Includes morning coffee/snack and lunch.
March Calendar
March 1, 2019
Spring is almost here! Check out this month's calendar for free and low cost activities!
BC 2019/2020 Budget Released
February 20, 2019
Yesterday BC announced their 2019/20 budget which included important investments to help lift people out of poverty. A few highlights of this year's budget include:
A $50/month increase to the Persons with Disabilities (PWD) benefit. A person with disabilities will now receive $1,183 per month.
A new BC Child Opportunity Benefit will significantly improve the lives of thousands of low-income families, many of whom support children with disabilities.
Community Living BC received an annual increase of 66 million.
$6 million will be invested annually to provide respite services for parents who provide care for children with disabilities. This will significantly reduce the waitlist for respite services and increase the respite benefit by 10%.
BC's Fair PharmaCare program was expanded with an additional $42 million, providing coverage for more drug options that will improve the health outcomes of British Columbians. That includes people living with diabetes, asthma and hypertension.
A long-overdue addition this budget is the rate increase for shared living providers. This increase will help address the challenge of finding shared living providers in their community.
For more information about the 2019/20 BC Budget visit the BC Budget Website or view their reader friendly, plain-language Highlights Document.
Winter 2019 BeCommunity Newsletter
February 14, 2019
Winter has arrived and so has our Winter Newsletter! Check out the latest news here!
My Community 4 – Register Now!
February 5, 2019
My Community 4 is set for Tuesday March 5th!
Hosts and presenters are all British Columbians who bring a variety of experiences to their role, many who live with diverse abilities.
Online registration is now open and is on a first-come, first-serve basis for up to one hundred participants. Cost is $10, which includes a seasonal-themed lunch, snacks, learning sessions, and networking opportunities. Register by February 28th 2019!
February Calendar
January 29, 2019
Check out what's happening at BeConnected and in the community in February!
My Community 4 – Save the Date!
January 25, 2019
The fourth ever My Community Conference has been scheduled for Tuesday, March 5th 2019! The My Community Conference is developed by self-advocates and held every three years. Self-advocates from across the South Island are invited to learn new skills, network, and have fun at this exciting one day conference in Victoria. Stay tuned for more information about this year's presenters and registration information!
January Calendar
January 3, 2019
Happy New Year from all of us at BeConnected. Check out what's happening in January 2019! Make sure to check out our Art Show Grand Opening – January 11th from 5:30 to 7:30  at the Spiral Cafe! Art hanging for the entire month of January!
BeCommunity Art Show
December 19, 2018
Join us for our 8th Annual BeCommunity Art Show at the Spiral Cafe! Pieces will be on display for the month of January and 100% of the purchase price goes back to our amazing artists! We are excited to announce our Grand Opening will take place on Thursday January 3rd NEW DATE! Friday January 11th from 5:30-7:30. Support our artists and the Spiral Cafe! Want to display your art? There's still time! Bring in your piece to BeConnected's office by December 24th – please label with your name, the name of the piece, and the price!
< Newer Entries
Older Entries >