Latest News
Friends and Family Picnic in Celebration of Indigenous Peoples Day
June 17, 2019
Please join us for our annual Friends and Family Picnic in celebration of Indigenous Peoples Day! This years picnic will take place on Saturday, July 6th from 11:30am-1:30om at Centennial Park. Hope to see you there!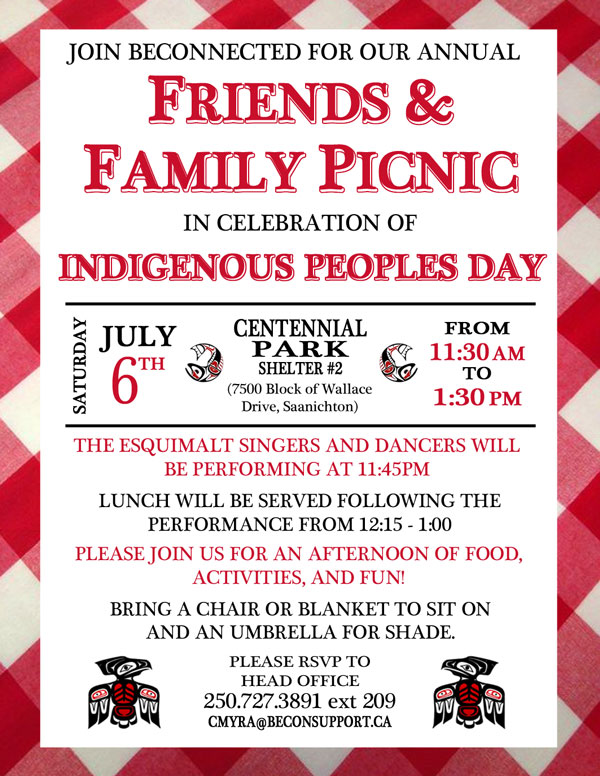 One Day 10th Anniversary – Save the Date!
May 29, 2019
We are excited to announce that OneDay will be hosting its 10th annual event on Saturday, September 7th!
Please join us for a day of celebrating the diversity in our communities with free music, games, and activities!
Interested in joining this years marketplace? We are currently looking for vendors! If you make it, bake it, or grow it – sell it at OneDay! Download our application form here or email Karla (klandsiedel@beconsupport.ca) for more information!
June Calendar
May 29, 2019
Summer is almost here! Check out what's happening this June!
May Calendar
April 30, 2019
May is a busy month and marks the beginning of the Spring and Summer fairs! Also don't forget to "Fit in Fitness" this month with the $25 Regional May Pass! BeConnected will reimburse any employees who purchase the pass before May 7th!
Free Professional Development Day for Home Share Providers
April 17, 2019
Please join us for a free day of training for home share providers! This is a great opportunity to listen to speakers present information on important topics that we all have questions around. Hope to see you there!
New RSVP date by Wednesday April 24th, 2019.
April Calendar
March 27, 2019
Spring has arrived! Check out what's happening at BeConnected and in the community this April!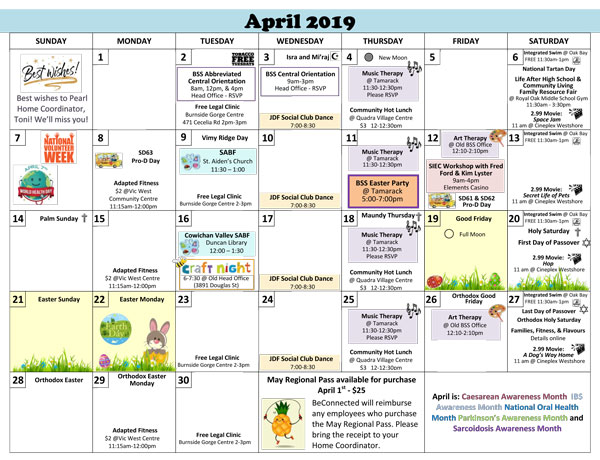 Workshop – Community Living 101: Back to Basics & Possibilities for the Future
March 14, 2019
The South Island Education Committee presents Community Living 101: Back to Basics & Possibilities for the Future with Fred Ford and Kim Lyster. Join us for a day of conversation about the history, values, and beliefs that guide our movement and are vital to sustaining ourselves – and the vision of community living for all citizens.
When: Friday, April 12th 2019
Where: Elements Casino (1708 Island Highway) Victoria, BC
Cost: $60 – Includes morning coffee/snack and lunch.
March Calendar
March 1, 2019
Spring is almost here! Check out this month's calendar for free and low cost activities!
BC 2019/2020 Budget Released
February 20, 2019
Yesterday BC announced their 2019/20 budget which included important investments to help lift people out of poverty. A few highlights of this year's budget include:
A $50/month increase to the Persons with Disabilities (PWD) benefit. A person with disabilities will now receive $1,183 per month.
A new BC Child Opportunity Benefit will significantly improve the lives of thousands of low-income families, many of whom support children with disabilities.
Community Living BC received an annual increase of 66 million.
$6 million will be invested annually to provide respite services for parents who provide care for children with disabilities. This will significantly reduce the waitlist for respite services and increase the respite benefit by 10%.
BC's Fair PharmaCare program was expanded with an additional $42 million, providing coverage for more drug options that will improve the health outcomes of British Columbians. That includes people living with diabetes, asthma and hypertension.
A long-overdue addition this budget is the rate increase for shared living providers. This increase will help address the challenge of finding shared living providers in their community.
For more information about the 2019/20 BC Budget visit the BC Budget Website or view their reader friendly, plain-language Highlights Document.
Winter 2019 BeCommunity Newsletter
February 14, 2019
Winter has arrived and so has our Winter Newsletter! Check out the latest news here!
< Newer Entries
Older Entries >