Latest News
Autumn 2019 BeCommunity Newsletter
November 15, 2019
Hot off the press! Our 2019 Autumn BeCommunity Newsletter is now available! Make sure to catch up on the latest news!
Annual Family and Friends Holiday Lunch
November 13, 2019
It's that time of year again! BeConnected is excited to once again host a Friends and Family Holiday Lunch! Join us for great food, music, dancing, and a visit with Santa! Please RSVP by November 29th.
Upcoming Workshop: Breathing Wellness into Supportive Relationships
November 13, 2019
The South Island Education Committee is proud to host a morning dedicated to employee wellness with Dr. Don Castaldi on November 29th 2019. Spaces are limited! Register online at bit.ly/SIECFall19
November Calendar
November 1, 2019
Check out what's happening this month! November is Employee Appreciation and Wellness Month here at BeConnected with lots of activities happening!
October is Registered Disability Savings Plan Awareness Month!
October 17, 2019
October is RDSP Awareness Month!
The Registered Disability Savings Plan is a Canada-wide registered matched savings plan. It is designed as a long term savings plan for people with disabilities in order to be better financially prepared for their future. Based on income you may be eligible to receive up to $3 per $1 put into the RDSP and $1000/year for 20 years!
Download the brochure and visit RDSP.ca to find out more about the Registered Disability Savings Plan!
October Calendar
September 30, 2019
The October calendar is here! Lots going on at BeConnected and in the community!

September Calendar
August 30, 2019
There's a lot happening in September! Fall fairs, training opportunities, and OneDay's 10th Anniversary Celebration!
OneDay Limited Edition TShirt
August 1, 2019
This year One Day is celebrating it's 10th anniversary! To celebrate we are offering a multi colour limited edition TShirt for $20! Guarantee your size and colour preference by emailing cmyra@beconsupport.ca by August 15th. Please indicate size (Youth Medium to Adult XXL available) and shirt colour (Black or White) at time of ordering.
August Calendar
August 1, 2019
Can Summer be halfway over already?! Check out what's happening this month at BeConnected and in the Community!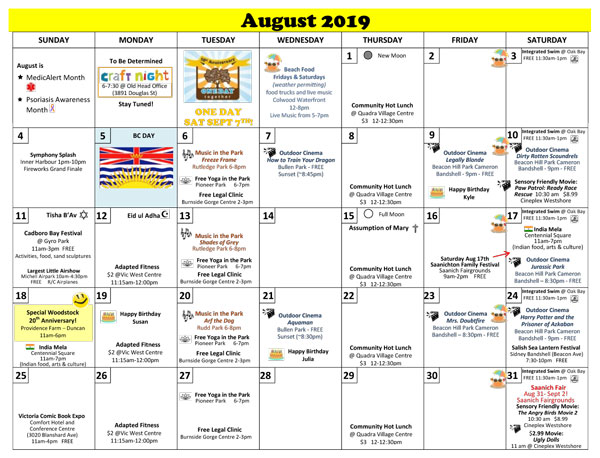 OneDay 2019 – 10 Year Anniversary
July 17, 2019
Join us this year for OneDay's 10 year anniversary celebration with free games, entertainment, food and more!
OneDay is also accepting applications for their marketplace! For only $10 you can have your own booth to sell your handcrafted items! Download the application form today!
< Newer Entries
Older Entries >