Latest News
2017 Friends and Family Picnic in Celebration of Aboriginal Day
June 19, 2017
Join us on Saturday, July 8th for our annual Friends and Family Picnic in celebration of Aboriginal Day! Lunch will be served following a performance by the Ahousaht Singer's and Dancer's! Hope to see you there!
Save the Date – One Day 2017!
May 31, 2017
This year One Day will take place on Saturday, September 16th! One Day is Victoria's kick off to community living month with FREE entertainment, activities, kids zone, and more! One Day also features a low cost BBQ and a marketplace for local artisans! Interested in joining our marketplace? Download our reservation form here!
June Calendar
May 31, 2017
This month is jam-packed with activities! Check out what's happening at BeConnected and in the community!
Annual Spring Food Drive!
May 3, 2017
After the increase in donations around the holidays, food banks receive very few donations and often run low come springtime. That's why BeConnected holds an annual Spring food drive to help those in need in our community!
We will once again be donating to the Mustard Seed Food Bank. Donations are due to Head Office or a BeConnected program by Thursday May 18th. Together we CAN!
May Calendar
April 27, 2017
Check out what's happening at BeConnected and in the community this month!
Fit in to Fitness with a Regional May Pass!
April 25, 2017
Every year in May, recreation centres from around the Greater Victoria area participate in a Regional May Pass. This $25 pass grants you access to drop in fitness programs from 14 different recreation centres!
The participating recreation centres are:
– Archie Browning Sports Centre         – Cedar Hill Recreation Centre
– Crystal Pool & Fitness Centre             – Esquimalt Recreation Centre
– Greenglade Community Centre         – Gordon Head Recreation Centre
– Henderson Recreation Centre            – Juan de Fuca Recreation Centre
– Oak Bay Recreation Centre                 – Pacific Institute for Sport Excellence
– Panorama Recreation                           – Pearkes Recreation Centre
– Saanich Commonwealth Place           – SEAPARC Leisure Complex
Find out more information about the Regional May Pass here!
In order to promote fitness, BeConnected will reimburse staff and residents who purchase the $25 May pass and Fit in Fitness next month!  You must provide an original receipt to your Home Coordinator by May 15th, 2015, in order for your pass to be paid for.
BeConnected's Easter Party!
April 4, 2017
This year's annual Easter Party will be held on April 13th from 5:30-7:00. Join us for dinner, an Easter egg hunt, and a visit from the Easter Bunny!
April Calendar
March 28, 2017
Check out what's happening this month at BeConnected and in the community!
Celebrate Earth Hour!
March 21, 2017
On Saturday March 25th from 8:30-9:30pm turn off your lights for Earth Hour! People around the globe will be turning off their lights for climate change action. What can you do in the dark? Take an evening walk, play music, talk with friends, do yoga, have a candlelit dinner, and so much more!
---
For more information about Earth Hour and climate change visit the World Wildlife Foundation's website at www.earthhour.org.
March Calendar
March 1, 2017
March is here! Check out what's happening at BeConnected and in the community.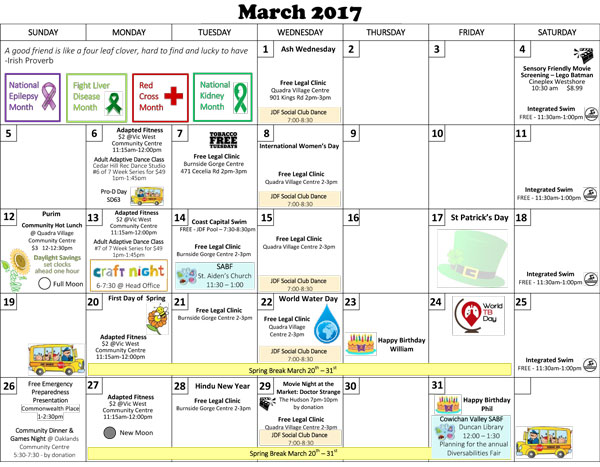 Older Entries >