Latest News
"What I'd Say" Music Video by Open Future Learning
October 6, 2017
This original song 'What I'd Say' is powerful song about the work that we do.  It is written and performed by Michael Steinbruck and Andrew Maroko, and stars Roger Crown.
For more videos like this one, visit www.openfuturelearning.org.
October is Community Living Month!
October 3, 2017
Every year in October we celebrate the gifts that people with developmental disabilities bring to our communities and highlight the importance of inclusion in schools, workplaces, and communities. In celebration of this we call October "Community Inclusion Month"!
"Community Inclusion Month" not only welcomes all members of community to celebrate and bring awareness to the strengths and achievements of people with developmental disabilities, but it also challenges us to think of community as more than just a place where we live. It is where we all come together to work, learn and play.
The theme of this year's Community Inclusion Month is: "Everyone belongs in BC schools"
Read inclusion BC's Proclamation here
Stay tuned this October for:
The annual SABF Community Inclusion Month Pizza Party
SABF Cowichan Valley Beach Cleanup
Other events on the island for Community Inclusion Month
River City Chili Fest and Pumpkin Fest – October 14th from 11am-3pm in Campbell River. More details
Launch into Life! Workshop on Transitioning into Adulthood – October 19th from 9:30pm-9pm and October 21st from 9am to 3pm in Comox. More details
Looking Forward to the Future: Supporting Individuals with Developmental Disabilities as they Age – October 30th from 6:30-9 at Spectrum School, Victoria. More details
And check out the sneak peek of this year's UN International Day of Persons with Disabilities Film Festival here!
October Calendar
September 29, 2017
October is a busy month! Check out what's happening at BeConnected and in the community this month!
ONE DAY – Saturday September 16th
September 1, 2017
One Day is only 2 weeks away! Join us on Saturday, September 16th, 2017, from 10:00am to 3:00pm, at Topaz Park in Victoria.
This year we will have a FREE Children's Fun Zone, inclusive games, sports and recreation area, music, and entertainment. We will also have a low cost BBQ lunch available and a Marketplace for local crafts persons to sell their handmade items.
BeConnected Support Services, Community Living Victoria, Independent Living Housing Society, Integra Support Services, Kardel, Lifetime Networks and Recreation Integration Victoria are teaming up again to kick off community living month in Victoria! Please join us.
For more information check out our Facebook page!
5th Annual Artists with Disabilities Showcase hosted by the Victoria Disability Resource Centre
September 1, 2017
The Victoria Disability Resource Centre is looking for artists to showcase their work in their Annual Artists with Disabilities Showcase held in December. Submissions must be received by September 8th! Details below.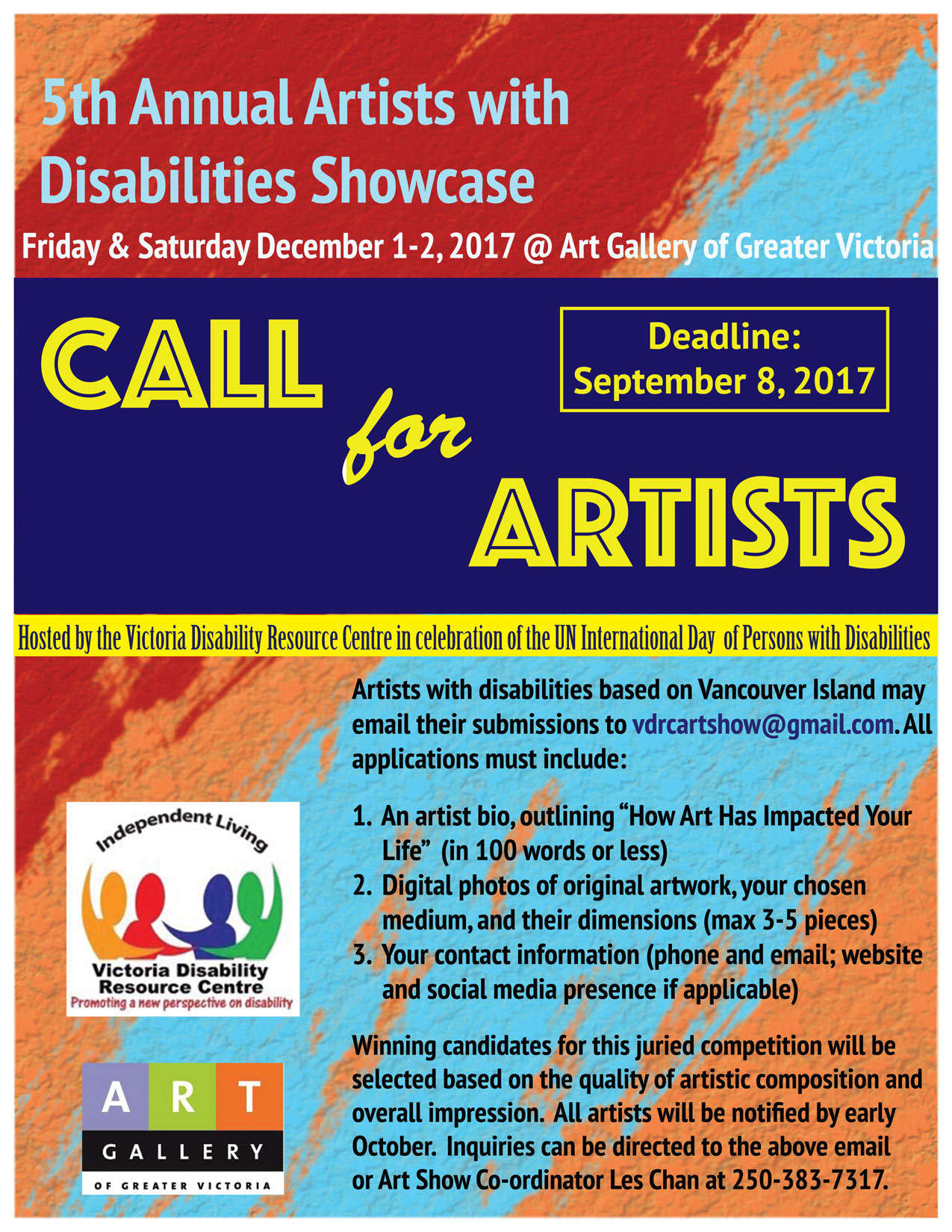 String Ensemble Angelorum
September 1, 2017
On September 13th Inclusion BC is hosting the String Ensemble Angelorum at the Alex Goolden Hall.
The String Ensemble Angelorum is an inclusive string orchestra from Korea made up of youth with and without special needs. All tickets are by donation.
September Calendar
September 1, 2017
September has arrived! Check out all the activities happening this month including One Day and SABF's 10th Anniversary!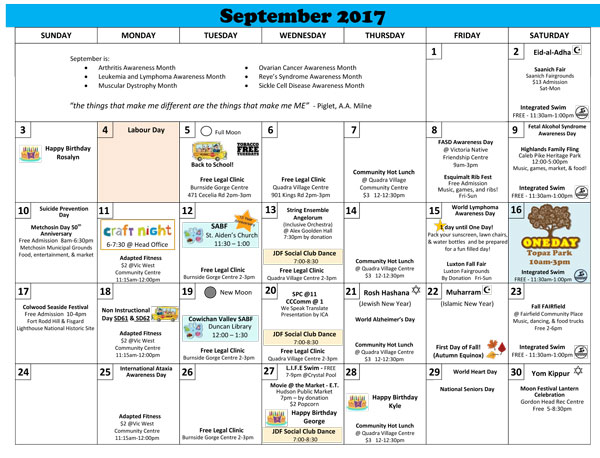 August Calendar
July 27, 2017
Check out what's happening this month at BeConnected! August is filled with free outdoor movies, music, festivals, and other community events.
BC Government Announces an Increase in PWD Rates
July 21, 2017
The new BC Government has announced that benefit rates for people with disabilities and those living on social assistance will increase by $100/month. An individual receiving disability assistance will now receive $1,133 a month starting on September 20, 2017. Read the full news release for more information.
Its My Home!
July 21, 2017
Open Future Learning has created a powerful new music video about independent living! Check it out here!
Older Entries >